(KPOPLINE) – Right the midst of performing so passionately on stage, lots of idols were caught in funny accidents where their hair started to rise up straight in the air. Why did this happen?
Korean idols often have to change their hair color so their hair is very dry due to continuous bleaching and dyeing. It leads to a series of "funny" accidents on stage, when idols' weak hair was charged and went "rebellious".
Moonbyul (Mamamoo) is so happy talking with fans without knowing her blonde hair is "rebelling".
Bleaching makes Minhyuk's hair (Monsta X) weak and easily rose up despite being carefully styled.
Fans of Woohyun (Infinite) are very excited to see their idol 'harmed' with this hairstyle…
…so they do not hesitate to take a lot of photos to save this "expensive" moment.
This series of trolling photos will always be stored by fans.
Dahyun (Twice) looks a little bit 'helpless' because she doesn't know what to with her tangled hair
Fans laugh out loud because of EXO's great teamwork. They do not only wear the same costume but also rock the same… hairstyle!
However, this "dandelion" hairstyle is still not able to "affect" Chanyeol's gorgeous beauty.
Baekhyun is so cute and lovely with this hairstyle.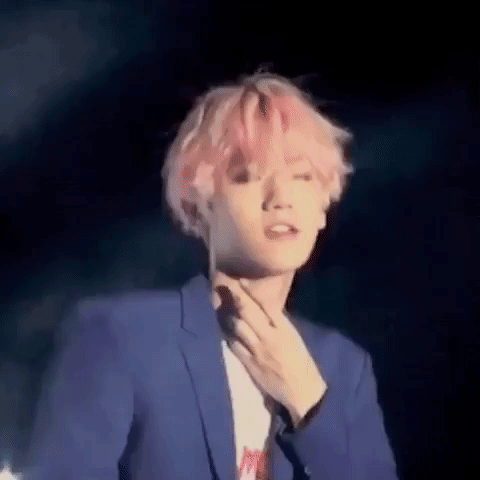 This is a close-up of Baekhyun's hairstyle on stage.
Hani (EXID) innocently teases her teammates without knowing that her hair is also rising.
Recently, Kang Daniel made his brothers and fans laugh out loud when he was performing really hard on stage…
… so he didn't know that his hairstyle makes fans distracted.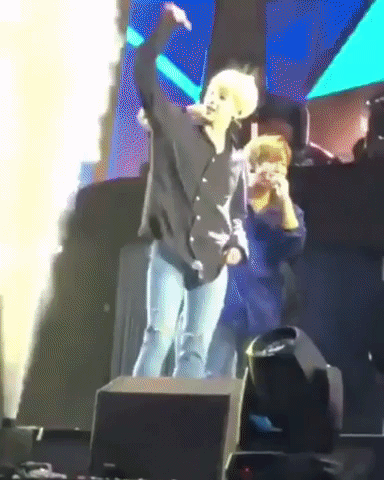 Other members behind Daniel can not help laughing.
How many years Top 5 Kpop new generation girlgroups have spent as trainees?
Have you ever wondered how long the girls from Black Pink, GFriend, Mamamoo, Red Velvet và Twice worked as trainees?
Almost all Kpop idols before being debuted, they always have to undergo the period as trainees Some people only need to practice within a few months, but some others take up to 10 years to be debuted.
After knowing that thing, many people usually ask an interesting question: What is the average trainee time for each of the top five new gen girl groups?
G-Friend
Sowon – 5 years (3 ,5 years at the different company and 1,5 years at Source Music) 
Yerin – 2 years
Eunha – 3 years
Yuju – 2.5 years
SinB – 4 years
Umji – 1 years
AVERAGE : About  2.9 years
Mamamoo
Solar – 3 years
Wheein – 3 years
Moonbyul – 3 years
Hwasa – 3 years
AVERAGE: About 3 years (The members said in an interview they had  the same time of practice and lasted about three years )
TWICE
Nayeon – 5 years
Jungyeon – 5 years
Momo – 3 years
Sana – 3 years
Jihyo – 10 years
Mina – 1 years
Dahyun – 3 years
Chaeyoung – 3 years
Tzuyu – 1.5 years
AVERAGE: about 3.8 years
Red Velvet
Irene – 5 years
Wendy – 2 years
Seulgi – 7 years
Joy – 2 years
Yeri – 4 years
AVERAGE: about 4 years
Black Pink
Jisoo – 5 years
Jennie – 6 years
Rosé – 4 years
Lisa – 5 years
AVERAGE: about  5 years
Jonghyun's posthumous album 'Poet | Artist' album cover and tracklist released
Jonghyun's tracklist for his posthumous album 'Poet | Artist' has been revealed
Jonghyun's tracklist for his posthumous album 'Poet | Artist' has been revealed.The album will include 11 songs: "Shinin'", "Only One You Need" (Literal Korean title "Phantom Pain"), "#Hashtag", "Grease", "Take the Dive", "Sightseeing", "Rewind", "Just For A Day", "I'm So Curious", "Sentimental", and "Before Our Spring".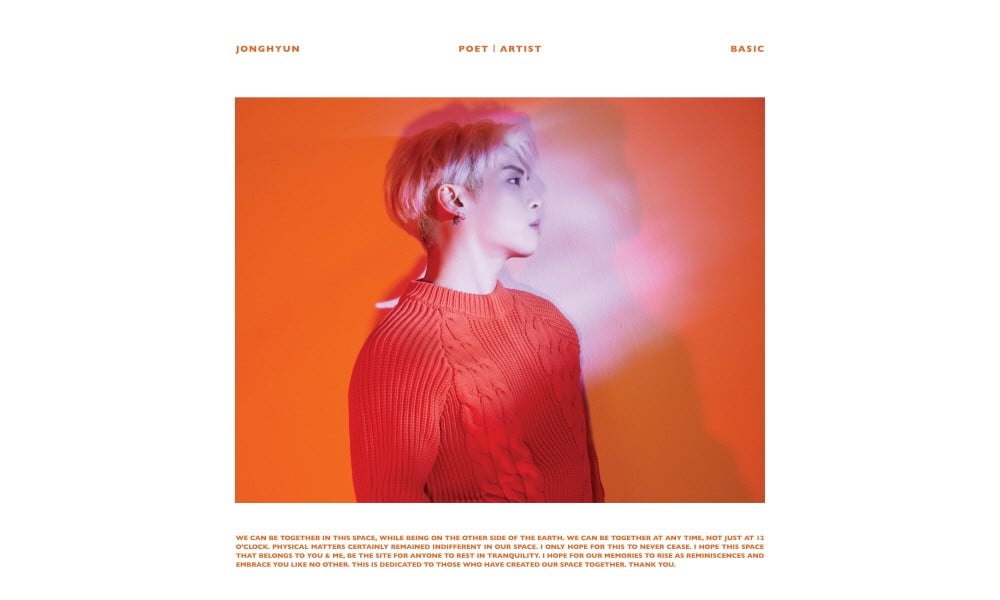 Proceeds from the album will be given to Jonghyun's mother, and will be used to build a foundation to help those in need. The album will be released digitally at noon KST on the 23rd and physically on the 24th.
Korean stars give their honest feelings after filming 18+ scenes
Despite being professional actors, many Korean stars couldn't feel calm when they have to film a 'sensitive' scene without clothes on in front of the staffs.
At first glance, no one can understands actors' feeling after filming sensitive scenes. However, after you know about the artists' real confession about this, you will definitely have to respect these actors' sacrifice for their job.
Park Si Yeon
Park Si Yeon has spent some difficult moments when filming a bed scene with No Min Woo in"The Greatest Marriage". At a press conference, Park Si Yeon said: She had to act this sensitive scene in the early days of filming.
Park Si Yeon in a sensitive scene with No Min Woo
Park Si Yeon said: "Although that is a hot scene when I had to show off my body but it was very boring and weird because No Min Woo and I had just met. We had to retake that scene several times."
However, there is a reason why 36-year-old beautiul actress feel satisfied despite filminng sensitive scenes with a stranger.
"When we retake this scene for the second time, we really got to know each other better. So, both of us feel more comfortable and fimling the scene is even more reckless than originally planned " Park Si Yeon humorously shared." Then, our director also said that he had to cut off a few part".
Kim Moo Yeol
Kim Moo Yeol film the sensitive scene when he was just getting married 
Not only the actresses feel awkward about the sensitive scene, male actor Kim Moo Yeol also experienced the  embarrassing feeling  when challenging on this kind of scene.
In the movie, Kim Moo Yeol plays a professor who falls in love with a 17-year-old girl. The 33-year-old male actor admitted that it was extremely difficult for him to get into a sensive scene when he had just got married.
Cha Seung Won
Cha Seung Won declared to stay away from the sensitive scene
Cha Seung Won doesn't like the sensitive scene and used to say he would never act that kind of movie. Marriage life is the reason why Cha Seung Won has that choice.
"In fact, being married has a large impact on my decision. In additions, I also feel uncomfortable with that scene." Cha Seung Won shared his opinion on hot scenes.
Lee Sun Kyun
Lee Sun Kyun doesn't like filming sensitive scene after getting married 
" Miss Korea"'s main actor also has the same opinion with Cha Seung Won.
Lee Sun Kyun shared:" I feel uncomfortable with sensitive scene after getting married. It's very different. And just a little awkward moment can make me hard to focus on acting."
Jung So Min
Jung So Min's parents were angry with her sensitive scene.
Another stars make parent upset for sensitive scene, she is Jung So Min. The 26-year-old actress revealed that her parents were so angry that they did not talk to her because of her scene in "Can we get married?" in 2012.
"Straight conversations, getting into bed and kissing scene make me feel a bit awkward. But when we actually shot those scenes, everything was fine.
However, when I was watching this movie at home with my parents, I was extremely embarrassed. My parents became silent at that time, "Jung So Min still feels embarrassed when she remembered about that moment.
Ji Sung – Working hard for hot scene
Last year, Ji Sung has a movie 18+ "My P.S Partner" partnered with  Kim Ah Jung. The film talk about some couples who love each other through sex calls. In movie have a lot of Ji Sung and Kim Ah Jung's reckless scenes . When asked about this, he said that he was tired of filming: "Because I think the acting is an art , so I should follow the script. But to act on this sensitive scene is really hard. I worked so hard  for 2 days. Then, I feel so tired. "
Lee Sun Gyun – After getting married, sensitive scene is more difficult.
The hit movie "Helpless" is a mysterious horror movie, but it contains lots of Lee Sun Gyun and Kim Min Hee 's hot scenes. When Lee Sun Gyun just got married , he said: "Filming the hot scene after getting married makes me feel uncomfortable." When asked about the difference before and after getting married, the actor said, "It is really different. I feel more anxious and have to try to concentrate."
Kim Hyung Jun: Idol acted sensitive scenes
Kim Hyung Jun (SS501) made fans surprise when he changed his image to a matured role in a KBS drama's "She's Completed Insane" last year. His role in movie is the arrogant star Kangmin, although not too "reckless" but this scene shows two characters's close atmosphere.
Lee Jang Woo: 
MBC drama 'I Do I Do' talk about a love story between an older lady and a young man. Since  the first episode, this drama has appeared the hot scenes but a few people know that: when broadcasting, that scenes has been changed. Lee Jang Woo revealed: "In the script, the bed scene is extremely simple. So, when I talked with Sun Ah and the director, we realized the importance of this scene and compared to what everyone's opinion about this hot scene in other films, we found that it was too simple. Then, a lot of dialogue and situations are created while shooting. We have done very differently than what was written in the script. "
Lee Byung Hun: Filming sensitive scene with director 's wife
In the movie "I Come With the Rain," actor Lee Byung Hun combine with Chen Yi, the movie director's wife . This is such an unique experience for the Korean actor in his career. Lee Byung Hun shared, "There was another woman in the studio at the time. The director is watching closely, so it feels funny. " Lee Byung Hun affirmed the hot scene 's difficulty: "I had to act in that scene for a minute and then cut it down to only 5 seconds."
Lee Dong Wook: Embarassed to tell to his parents
When he was MC  in talkshow Strong Heart ,Lee Dong Wook said that: He was not worried about filming the hot scene more than facing with his parents when they asked about that. Dong Wook gave a example : After he had a hot scene with actress Oh Yeon Soo in Sweet Life. "My father used to ask me a lot about the love scenes that I had played before, but this time he was very quiet," Dong Wook said.
Source:kpopline