Some of popular female idols have accidentally revealed their 'big' waists when wearing sexy clothes.
Many famous Korean actresses such as Taeyeon, Tiffany, UEE, Goo Hara, Minah … have embarrassing moments. To survive in the competitive showbiz environment, most female idols have to practice physical fitness in combination with harsh diets in order to maintain a "perfect" body that attracts fans.
However, some of them have had no time to control their weights, accidentally revealing their fat waist when wearing sexy clothes.
Minah (Girl's Day)
Minah (Girl's Day) after undergoing weight loss, she has a slim and extremely attractive body with long legs. However, in a recent performance, her fat waist caught by the camera of Newsen has created a hot topic online.
As can be seen, the tight pants revealed the fat waist of Girl's Day main vocal. However, fans have defended her for reasons of costume.
Chanmi (AOA)
Like Minah, with sexy outfits and poses, Chanmi's body (AOA) has "protested",  revealing an unusual fat waist.
Taeyeon (SNSD)
In order to have a perfect body,  few people know that the leader with the baby face,Taeyeon has undergone miraculous weight loss. Before that, while performing the song "Hush Hush", Taeyeon was wearing a croptop, which revealed her fat waist in front of the camera.
The black tight pants has revealed her fat waist. These photos were spreaded quickly and surely became a motivation for her to lose weight.
That was not the only one time Taeyeon was caught in such situation
Tiffany (SNSD)
Tiffany has the "smiley" eyes but the waist often fall into uncontrolled situation. Her nickname is "Fany Pig" because her body is slightly larger in width.
Standing on the same stage as Wooyoung (2PM), Tiffany revealed a fat waist.
This might be one of the clearest outfit error of Tiffany
UEE (After School)
The healthy and sexy body of UEE  is the dream of many girls. Previously, UEE was just as normal as a lot of people with the fat waist.
Tight and sexy clothes has "accused" her of the fat waist.
Goo Hara (Kara)
She usually attends at the top chart of slim waist and perfect body of Korea. In the promotion of "Lupin" with Kara, this sitting pose with a croptop have revealed her fat waist.
After knowing the moment of her life, Goo Hara showed off this image to fans when participating in "Strong Heart".
Soyu (Sistar)
She once couldn't control her weight quite well. 
But she has got better body figure gradually, and now become one of sexiest female singers in Korea
Bora (Sistar)
Owning the same fate with her sister, Bora revealed her "full" waist when bending down to talk with fans.
Lee Hyori
As the "glamorous queen of Korean showbiz," Lee Hyori has always enchanted fans by her perfect body. However, she could not avoid "the fat waist" moment.
IU
Impressing fans by adorable appearance, IU still can not escape this 'embarassing' moment. It looks like she has been pregnant for three months in this picture.
When innocent Korean celebs wearing sexy dresses
(KPOPLINE) – Always showing their innocent sides and wearing outfits discreetly, what do you think if sometimes, these Korean celebrities show up their sexiness in beautiful designs.
Yoona (SNSD)
Being called "Beautiful Goddess" of Kpop, with her slender body, small face, YoonA always dresses classy and sophisticated and never wears any revealing outfits.
YoonA look so gorgeous in this white long and V-neck dress
At another event, she picked up a pink chest-cup dress. She looked sexy but still beautiful and pure. 
Soo Young (SNSD)
Just like YoonA, SNSD's long-legged Soo Young has a perfect measurements which making every girls to dream about. However, she never dresses too sexy. As a fashionista, she follows elegant style. if seeing Sooyoung in sexy and cut-out designs, you definitely cannot take your eyes off her.
Jessica Jung
We can hardly see "Ice Queen" Jessica Jung wearing sexy dresses. She loves designs which can show her long legs, representing her. After leaving SNSD, Jessica looks sexier and better as she decided to show more her maturity.
The photo shoots helped Jessica change the previous concept of a cute and innocent girl into a hot and sexy women. 
Park Shin Hye
Park Shin Hye is actress who takes on the role of a gentle, naive girls on films. In real life she also keeps the feminine charm in her fashion style. Rarely appeared with sexy outfits, but once the style was chosen, the fans will be surprised by the attractive beauty of Park Shin Hye.
Fans are crazy when seeing Park Shin Hye in this deep V-neck dress
Series of Park Shin Hye's sexy dress at different events
Son Ye Jin
Son Ye Jin is also known with her pure beauty. Her elegant, luxurous and youthful fashion style is highly valued by Korean viewers. That is why when appearing in a deep V-neck, she truly shocked many of Koeran audiences.
Son Ye Jin drew a lot of attention when she appeared on the red carpet of a film festival
She becomes "hot topic" everytime she shows up 
A design helped Ye Jin show off her long legs
Han Hyo Joo
A woman with the mos beautiful smile of Korea – Han Hyo Joo tends to dress elegant outfits. Fans also cannot imagine this gorgeous actress in any sexy dresses.
On the 40th Blue Dragon's red carpet, Han Hyo Joo got so much attention of medias and fans because of this black lace dress
This dress perfectly showing off her curves
1001 hilarious airport fashions of K-pop male idols that make us laugh so hard
Sometimes, we have to wonder so hard about what our idols think at the moment they choose their outfits…
Despite being considered a global fashion icon, it is sometimes… impossible to understand G-Dragon's  airport fashion. For example, this huge puffed coat which looks like a blanket to keep him warm. He won't even feel a small breeze of wind…
Doesn't he need to see the way so as not to crash into anything?
What an unique combinations…
Sometimes he even brings a 'unisex' touch into his outfits
This outfit is okay, except for the fur hat…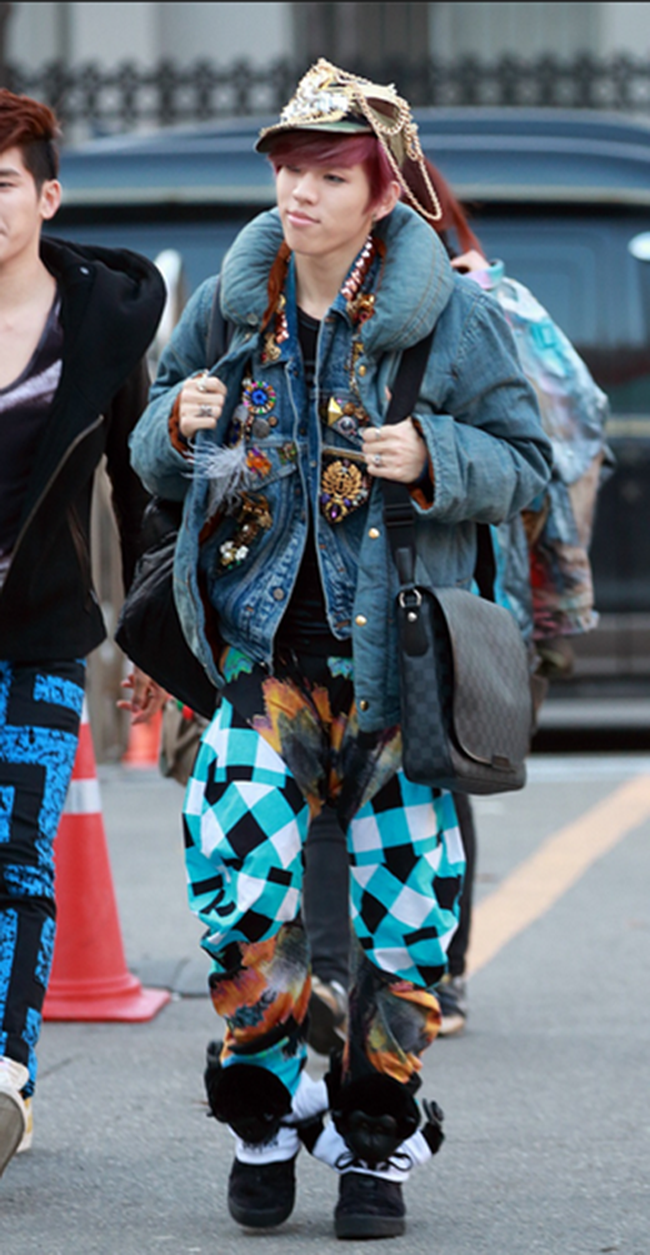 I bet no one could ever forget about Dongwoo's weird fashion!
He looks like an artistic scrulpture with so many colours and patterns.
Talking about colourful outfits, Kai is also a big representative.
This hat makes Youngjae look just like the Grim Reaper (Goblin), but isn't it a little bit unconvenient for travelling on planes?
Taeyang looks like a mine worker with his huge bag
Actually, Key looks quite fashionable and neat in this outfit!
Do you think you will continue to see pretty boys? Here, your perfect Taecyeon (2PM)!
And finally, the most impressive outfit belongs to Changsub (BtoB)
K-pop idols who are obsessed with Louis Vuitton products
(KPOPLINE) – Louis Vuitton handbags and backpacks are those high-end fashion items which are favoured by a lot of favorite KPOP stars.
Sehun (EXO) is simple and luxurious at the airport with the "fiece" Louis Vuitton backpack in hand, combined with a black long coat and dynamic Converse shoes.
Gikwang (Highlight) looks sporty in all-black outfit and the prominent Louis Vuitton bag.
Baekhyun (EXO) chooses a Louis Vuitton backpack that fits his checked shirt perfectly. 
Again, the Louis Vuitton bag was chosen as the highlight for the outfit, and this time it was Suga (BTS). He wear a simple "black clothes" with the expensive bag on the road to a music show.
Chansung (2PM) is extremely cool with a simple T-shirts, distressed jeans and a LV handbag. This street style can enhance the manliness inside him.
The oldest brother of BTS – Jin is very gentle and handsome with the "prince charming" style: a blue shirt, dark blue pants, leather shoes and a leather bag of Louis Vuitton.
Hwang Minhyun (Wanna One) makes a lot of fan girls admire because of his "boyfriend" style: denim outerwear with simple checked shirt and ripped jeans, along with expensive and luxury bag of LV.
Jackson (GOT7) uses the typical LV handbag while he wears a long puffed coat
Kang Daniel shows his great sense of fashion when he chooses youthful hoodie in pink outisde a baby blue denim shirt, and a LV handbag to complete the look
With the same Louis Vuitton bag, Hongki (F.T.Island) makes not only fans but also netizen laughed out loud because of his weird combination. Can anyone find the relation between a spotted shirt, bright jeans, snake leather boots, a red hat and a deluxe brown LV bag?
Source:kpopline