(KPOPLINE) – Fan signing events help fans meet and interact with their favorite idols up close and personal.
1. Hwang Min Huyn
Hwang Min Hyun from rookie group Wanna One always made his fan girls go crazy with his friendly manner at Wanna One's first fan signing event.
Hardly anyone can resist his sweetness.
2. V – BTS
V (BTS) is definitely an ideal boyfriend for every girls in the world. He always takes good care of his fans at any fan meetings.
Letting a fan to touch his face
He knows how to serve his fan better
3. L – INFINITE
L (INFINITE) knows how to please his fans. He happily communicated with fans as best friends at a fan meeting.
4. Nam Tae Hyun
Nam Taehyun proved that he was a friendly idol by letting fans touching his face.
A lucky fan girl was given a chance to touche his unique's eyebrows
Always smile happily with fans
5. Zico – Block B
On stage, Zico is a mysterious and cold man, but in front of his fans, he can quickly turn into a cute guy.
He is willing to warm fan's hands in a winter day
6. Seungri – BigBang
During a fan signing for his first album, he went out of his way to climb the table to take a picture with a young fan.
He can hug….
..or even play with fans
Nothing can hurt fans more than seeing idols getting injured on stages
(KPOPLINE) – Fans do not only feel hurt with the injured moments of idols but also wish their idols not to join these shows because of its danger.
Fans are always concerned about injuried moments or accident of their idols on variety shows because of íts seriousness and the effects that they may leave to the artists afterwards.
1. Uee – After School
The former member of After School – Uee also made fans startled when participating in variety show "Law of the Jungle", she was knocked out of the rock and got the head injury.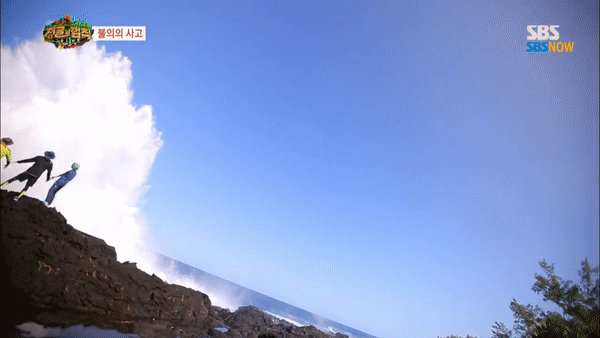 The strong wave we see in Law of the Jungle pushed her fall to the rock.
Then she was bandaged.
2. Jung Yeon – TWICE
The girl of TWICE – Jung Yeon also became weak when she got an accident on the variety TV show "Law of the Jungle". And the crew has to stop.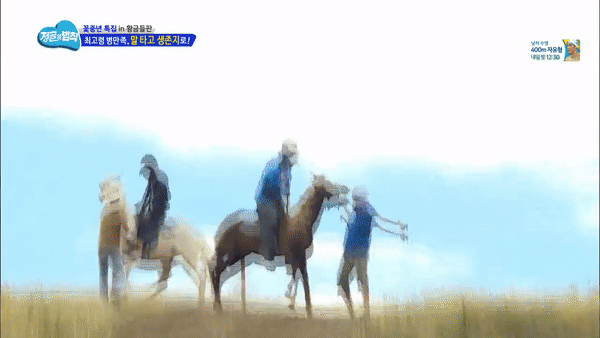 Jung Yeon's horse was unsteady and her legs was hit by the horse.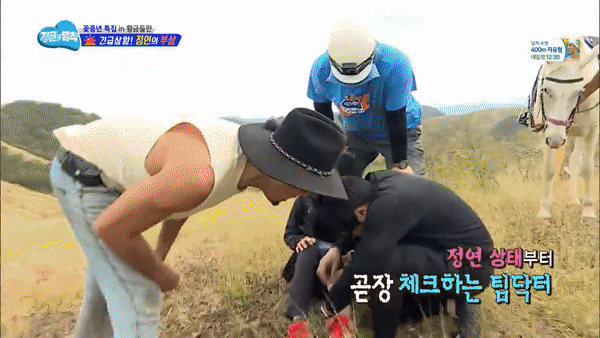 The shooting has to stop.
3. MinHo – SHINee
Many times, MinHo (SHINee) got hurt in the variety show. However, the most painful injury is on the show "Dream Team" season 2, he has slipped his hand from the sports equipment and fell into the guard area. He was unable to move and the doctor was sent right away.
On another TV show, "Hope Basketball All Star 2015" with SMTown, MinHo also suffered a foot injury and had to seek the help of a doctor.
4. Bora – Sistar
On the TV show "Idol Star Athletics Championship", Bora also got an injury in the final race 100m of women. Even though she was the winner, she was still in pain when her face was pressed down.
5. Xiumin – EXO
On the "Idol Star Athletics Championship", Xiumin got a legs injury and had to seek the help of Leo and Ravi of VIXX. After this injury, he had to go to the doctor immediately and was diagnosed with bruise in his right knee. Fortunately, the doctor had diagnosed his bones completely normal. But he still has to suffer the pain to get the award with EXO at the "Korean Grammy".
 Ravi and Leo (VIXX) guide Xiumin after the injury.
6. Jin – BTS
Like Xuimin, Jin also got the serious injury on the "Idol Star Athletics Championship" in 2016. While participating in the second round of the futsal match with an unlucky number 7, Jin was bumped in his nose. Jin's nose bleeds a lot and RM has to take care of him. Then he posted the picture on Twitter to reassure fans.
Fans praise 'masternim' Song Minho for the photos he took for Black Pink
He has recently been taking his camera everywhere to capture every moment of the place he went to. And here are some great results coming from master Song!
Recently, the official site of Black Pink at Instagram has updated photos of 4 girls at a year-end music festival. It is worth noting that these pictures were taken by Song Mino (WINNER). The photo is receiving a lot of attention from the Blink community (Black Pink fandom).
This shoot was recorded when Mino was taking photos for Black Pink.
And this is an impressive result. With moderate brightness and clear quality, he balanced the proportion of four girls perfectly. Many people believe that Mino has enough elements to become a photographer in the future.
From the color to the scene, Mino chose an impressive angle as the background was covered by the lighstick and fans.
It is known that Mino (WINNER) loves photography and has a collection of expensive and luxurious cameras. From the mid-range price of nearly $ 600 to the high value of $ 4,500, the full range of cameras comes from many well-known brands around the world.
This is Moncler x Leica X 113 Special Edition Camera $ 2,950.
He bought the Leica M7 TTL.72 Ranger finder Camera ($ 4,550). Mino also brought the camera to the fansign of WINNER and took pictures for his fans. In additions, he also owns the Ricoh GR. Ricoh GR II priced at $ 599.
Fans are now "happy" because it has turned into idols taking photos for fans:
"The beautiful model, handsome photographer .. What a perfect combination."
"Song Mino has all the qualities to be a professional photographers….Make friends with me."
"Looking at Mino's camera, I'm shocked, it's really a beautiful photo."
"Is there anything that he do not know?"
Can you guess these unusual hobbies of your biases?
(KPOPLINE) – Have you ever wondered how Kpop idols spend their free time?
Some of idols have hobbies just like ordinary people, like Hoya (INFINITE's former member) loves dancing, and Young Ji enjoys traveling… However, some of idols like doing unusual things during their spare time. Let's see who are they and what are their unique hobbies.
Painting nails – Lee Hongki (FT Island)
With a sexy voice as a rocker, many of you may guess that Hongki is fond of skateboarding or busking, but his favorite activity during free time is nail art. He even published a book on nail art, which was topped on charts of many countries. He once shared that he spent US $9000 on a diamond piece for his nails.
Ironing clothes – Irene (Red Velvet)
Irene proved that she was not a young lady who does not want to do the housework. Many people think that she must be in love with something like fashion design but not laundry. Irene often irons clothes for Red Velvet members and even showed off this skill on a variety show.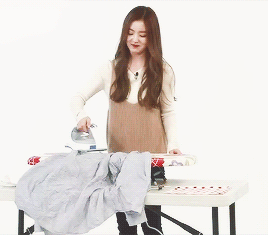 Who want to wear clothes which are ironed by this beautiful lady?
Taking photos – L (Infinite)
Inspirits already know that their idol – L is a professional photographer. He has a passion for photography since he was in high school and applied many part time jobs just to buy a camera. He released two photobooks and expressed hope that one day he could take album photoshoots for the group.
He is really good at photography
Practicing Aikido – Baekhyun (EXO)
Before becoming idol, Baekhyun competed in various martial arts competitions and won many medals of all colors. He now still continues practicing aikido whenever he has free time.
Did he amaze you?
Riding horseback – Goo Hara
Hara has the image of a frail girl, but she has a reckless hobby, which is horseback riding. She started this hobby with the determination of getting rid of her "primary student" image.
Horseback riding helps her a lot in changing into a strong girl
Writing blogs – Kim Jaekyung
Kim Jaekyung is famous for her beauty and fashion hobbies. She even has another hobby, which is writing blogs. Jaekyung loves posting all of her activities in daily life on blogs, from makeup making, nail art, leather bag making to interior designs.
She is like a real beauty blogger
Drawing – Yura (Girl's Day)
Does Yura like doing exercise or trying new makeup styles? Definitely no.
She loves creating her own art works. Her drawing skills are so amazing that she is called the idol artist. Take a look at her drawing of Yoo Jaesuk and princess Elsa in Frozen.
Fishing – Yook Sungjae (BTOB)
Sungjae is really into fishing. No one can think that this handsome guy has a hobby like the old man.
Collecting photos of beautiful people– IU
Many of you think that IU's hobby would be collecting classic instruments, but she just loves collecting photos of beauties. For IU, the most beautiful girl is her friend – Sulli. The two met as MCs and she was attracted by Sulli's beauty, even she wrote a song, named "Peach" just to complement Sulli's beauty.
Reading horror comic books – Hani (EXID)
Who can imagine that this beautiful goddess has a unique hobby, which is reading horror comic books with some horrible things like blood, decapitated bodies, chains….
Source:kpopline