(KPOPLINE) – When everyone laughs, they all have a different habit and action. And let's guess what is Jimin's (BTS) habits?
He disappears in front of the camera!
It's hard to understand, but after looking at the picture below you'll know right away!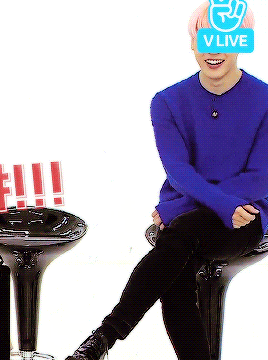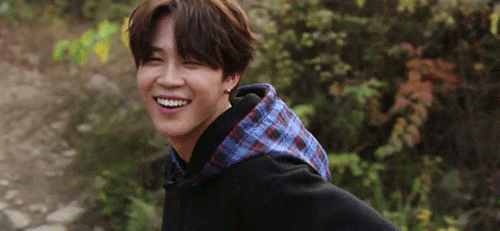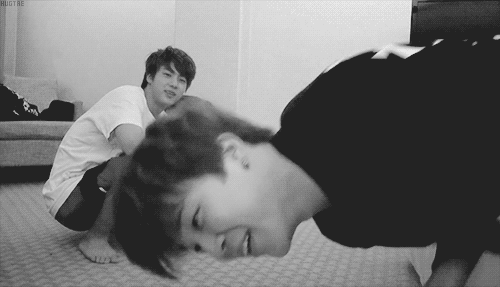 Laugh so hard that he fell down the bed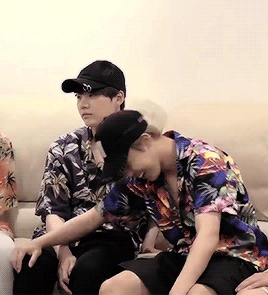 Suga likes: Jimin, what's so funny?
When Jimin laughed, he could not seem to stand up straight.
Jimin disappears among BTS members
J-Hope….
Then Jungkook was all alone in the frame photo.
Jimin will often bend forward to disappear from the camera.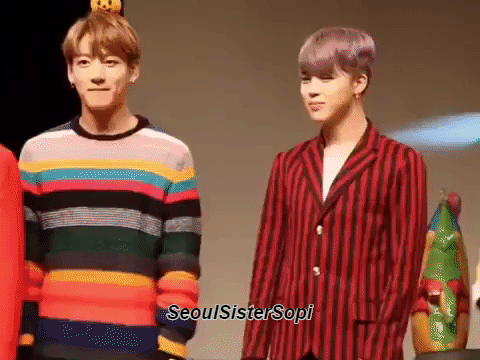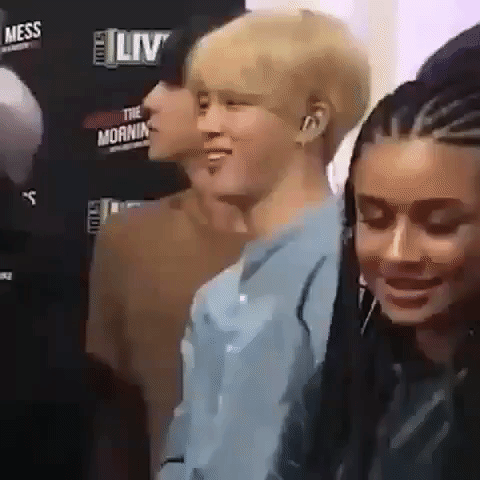 Someone please find Chimchim!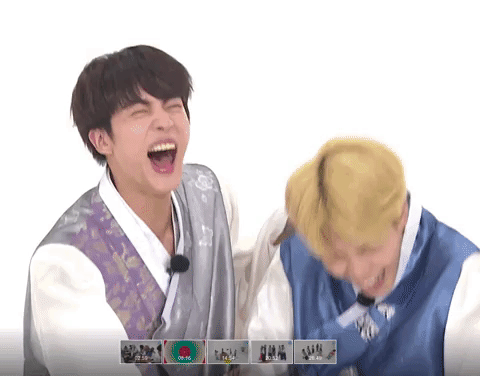 Jimin's fans are no longer surprised with Jimin … disappears from the camera for a few seconds.
Jimin even takes J-Hope to go with him out of the frame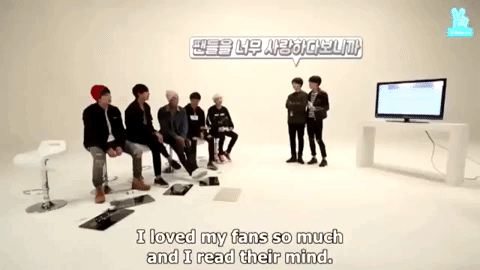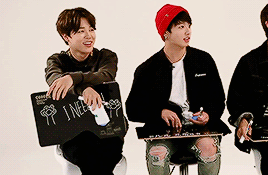 He always left his seat when he laughs.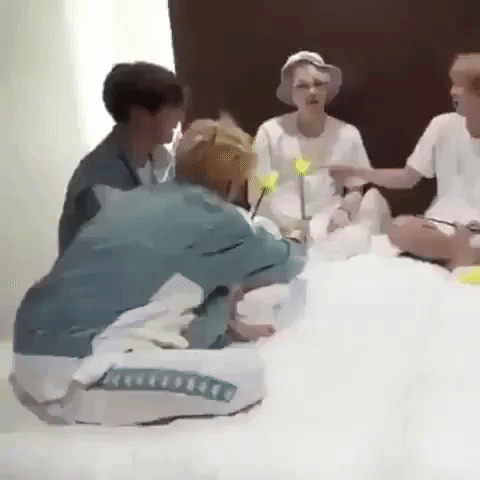 Although fans always tease about Jimin's habit, they really love Jimin's smile. With his one – lidded eyes and the "mochi" cheeks, every time Jimin laughs, everyone also laughs too!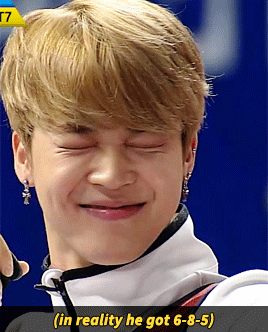 So lovely.
He is so charming when he smiles
And when he gets shy, he looks like a baby
Park Ji Min is so adorable, right?
K-pop 'long time' idols managed to do cute 'jeo-jjang' by Park Ji Hoon (Wanna One)
(KPOPLINE) – 'Jeo-jjang' not only becomes the trend of young people "aeygo", but it's also popular among famous K-pop idols. Let's check out these clips!
By the end of Produce 101 season, Park Ji Hoon became the hottest phenomenon on social networks with "Nae maeum soge jeo jang" meaning "I'll save you in my heart" or "Jeo Jang" . He not only makes the fan crazy for his loveliness but also captivates many Kpop idols' hearts.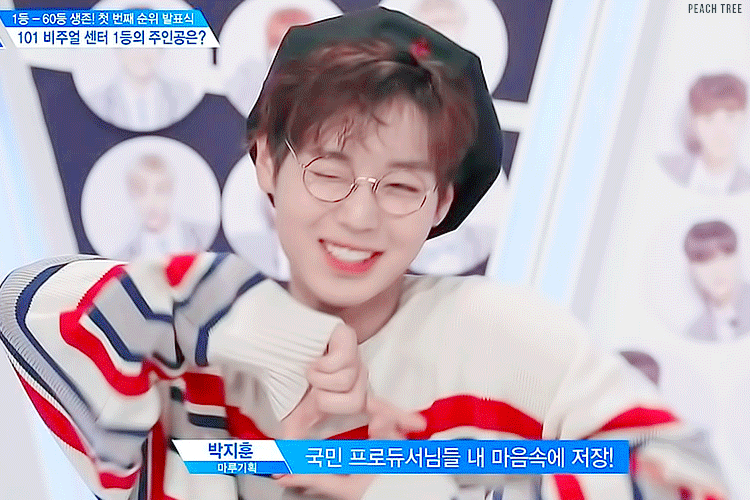 Super Junior
In the broadcast episode of "Weekly Idol", Kpop Gen 2 group- Super Junior was asked by 2 MCs to try the 'Jeojjang' challenge. HeeChul, ShinDong, YeSung, LeeTeuk made the audience laugh with the "Jeo jang" style of the old uncles.
Super Junior made the audience burst into a laugh
SNSD
Famous girlgroup SNSD can not miss out the hot trend.
Watching the part of Sunny looks really funny
TaeYang, G-Dragon- Big Bang
Even TaeYang made the fans extremely happy and satisfied.
 TaeYang showed a completely new version of "aeygo" with warm voice
During his concert entitled "Act III: M.O.T.T.E 'Moment of Truth The End' World Tour" G-Dragon also kept the image in his heart with the fans just by acting like this. Do you see G-Dragon making "Jeo Jang" too?
SECHSKIES
The Sechskies made the audience laugh out loud with their "Jeo Jang" cover.
Sechskies's Sung Hoon doing "Jeo Jang", made people laugh themselves into fits.
Not only the phenomenon of  (Jeo jang) but "Gwiyomi" has also become a trend of the Kpop idols. Unexpectedly even though they are not young, they are so cute.
Big Bang
The most horrible version of "Gwiyomi" in Kpop history has officially belonged to Big Bang.
Kara
Also one of the famous Kpop groups in the gen 2 – Kara – challenging "Gwiyomi" can not make it difficult for the beautiful girls.
Miss A
JYJ
Jaejong's JYJ is also extremely cute when performing "Gwiyomi" challenge. Although he doesn't remember the steps, he still extremely lovely
How do you feel when the Kpop idols show off their cute side?
5 things that make Kpop fans different from other fans
(KPOPLINE) – Kpop idols can be proud of what their fandoms have made for them.
Fansite
If you are a K-pop fan, you must be familiar with this phrase, because this is where you can find thousands of your idols' photos.
Fansite are websites created by idols' fan clubs, usually from Korea or China. Heads of fansites are people who often carry big cameras, and zoom lens to take good photos for their idols. These fans are the ones who have jobs, and can control their own time and money.
In addition, they can follow idols to everywhere, even to international tours. For famous idol groups, apart from fansites for the whole group, there are many individual fansites for each members.
These fansites are the sources of providing idol images.
Rice Wreaths
Only Kpop fans will do this unique thing for their idols. Kpop fans nowadays tend to give rice wreaths instead of customary flower bouquets to celebrities' events, a good way to show their support to idols and contribute to social activities.
2PM's fans sending rice wreaths at their idol group's concert
The rice is then donated to a charity under the idol's and fan club's name. For example, at the premiere of Love Rain (2012), with the participation of Asia's hottest actor Jang Geun Suk and YoonA (SNSD), over 13.8 tons of rice from all over the world was sent to the film crew during the press conference.
Rice Wreaths serves as a bridge to connect idols and their fans together.
Fanchant
In Kpop, fanchant is the way to show off that how big and powerful your fandom is.
Fanchant is the word or phrase that fans chant to cheer for their favorite singer in a song. These fanchants are usually created that match the melody of the song.
A.R.M.Y's fanchan for BTS's Mic Drop performance at SBS Gayo Daejun
Along with phrases, taken in the song, fans scream group's name and members' names to match with the song. For instance, in SNSD's PARTY, when the girls sing "Hey girls!" then fans will chant loudly: "jigeum-eun sonyeosidae!" (This is Girls' generation).
Fanchants are used not only to express their love to idols, but also to show strength and solidarity of a fandom.
Some of fanchants, which were highly valued in the Kpop industry, are fanchant in TVXQ's O Jung Ban Hap at Asia Song Festival 2007, SNSD's I Got A Boy at Dream Concert 2013, and Wonder Girls' 2 Different Tears at Music Bank 2010.
And EXO-L
Buying thousands of albums
Kpop is now getting more and more crowded. To achieve a victory, an idol group needs a strong fan base.
Today, buying idol group's album is not only a way to support them, but also a way to help your idol to win on weekly music shows. Therefore, fans have to carry out an important mission, which is "buying as many albums as possible".
EXO-Ls are willing to buy thousands of albums to help their idol win
At music shows such as Music Bank, Music Core or Inkigayo, the "album sales" is still a "factor" to decide whether the promotion is successful or not. Therefore, before idols' comebacks, fans will prepare plans to help their idols increase album sales.
Supporting food for idols.
As a united family, fans always try their best to support idols, including supporting food, drinks while idols are filming or performing on stage.
Even though, there still exists many bad stories that make other people think badly about Kpop fans. However, they can hold their head high because of all the things they have done for their idols.
Source:kpopline