(KPOPLINE) – The distance between people is sometimes also measured by the length of legs.
Girls often desire to have a model boyfriend with a height of 180cm. But sometimes that height is also a disadvantage for him when standing next to other people. Look at these long-legged male idols below and how that becomes their weakness.
Lee Kwang Soo
Kwangsoo has 'extra long legs' compared to most Korean. That's why he had to split his legs and lowered his body so as to reach the micro.
When standing next to Eunji, Kwang Soo is like a giant standing next to the little girl.
He also teaches us how to have a long-lasting friendship. This is the best way to take photos with your friends if your legs are too long.
He also treats his staff with kindness and consideration.
If you want to fit into the camera lense with other people, just 'stay low'.
Lee Minho
He looks a lot bigger than Park Bo Young
Minhyuk (BTOB)
Long legs somehow is not a good thing when you have to take group photos, and the members just don't let you sit!
Taecyeon (2PM)
He always have to stand like this so his staff can complete the makeup.
It does not mean that JYP does not want to enroll tall members but the height is limited, and Taecyeon is breaking the limit.
But it's okay, nothing is impossible, he is still able to tolerate as long as everyone is happy.
V (BTS)
V sometimes has to be like this, but he seems to enjoy this pose.
Jin (BTS)
Even he split his legs, we can't see his face because he is too tall
Lee Seung Gi
Lee Seung Gi is so thoughtful, he doesn't want his partner to have a sore neck
Thunder
When younger brother with his sister take a photo. Thank you Thunder for giving Dara a great photo.
Chanyeol (EXO)
If you are the tallest person in the group…
You have to think of unique poses.
He also must "cut down" his height to make the crew happy
Have you ever fallen in love with RM's aegyos before?
(KPOPLINE) – Anyway, aegyo is not necessary because he still make the fans fall in love with him by his own attraction.
Different from the serious and cool look of BTS's leader on the stage, RM's character is very cute and attractive by deep dimples when he smile. In many moments. when he is asked to to "eagyo" , in spite of being shy, he always try to please others. But it seems that RM was not suitable for aegyo, because he always show his loveliness by cute dimples and bright character.
When all of 7 boys found aegyos so awkward, they have improved so much now, including RM.
RM's Morning alarm clock seems to be "cheesy"and humorous but everybody have to admit: RM had tried his best.
That's right, everyone admired his beautiful dimples so much!
The other members identified RM as BTS 's aegyo "godfather", of course,  if he is the best, his style for aegyo will make a huge difference .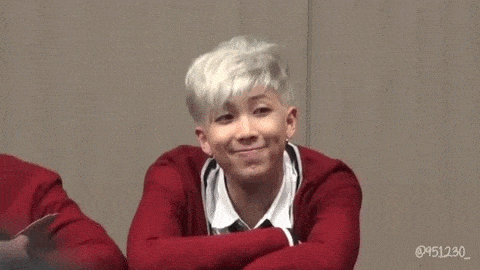 During a fansign, trying to become a cute boys in fan's eye but he immediately felt wrong so he stopped right away
One more time, he make others "shocked" and not be able to stop laughing by his cute and "cheesy " aegyo.
His face looks like a small triangle kimbap *jk*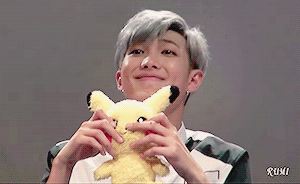 Acting cute with fan's gift – A Pikachu doll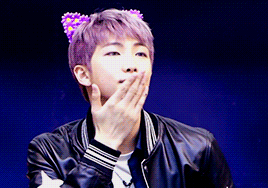 Bonus: RM's limit of standing his own aegyo is 2 seconds.
But we can include his shyness into being cute, because whenever he's embarassed, the dimples appear clearly which make him look so cute. You don't have to try so hard to do this, Nam Joon. You're already cute!
Netizens catch Wanna One's Park Ji Hoon constantly checking out BTS' V
What should we do to this little fanboy over here? V senpai, please look at our baby for once!
At the '2017 MBC Gayo Daejejeon' on December 31, Wanna One was seated right behind BTS in the artist section.
Park Ji Hoon, who has previously named V as his role model, was spotted glimpsing over at the sunbae idol multiple times.
His eyes are fixed on V.
again,
and again.
In reaction to Park Ji Hoon's adorable fanboy moment, netizens commented, "Park Ji Hoon looks like he's staring at his crush lolol", "Taehyung ah, look at him for once", "So cute. His eyes are so full of love", "I really hope they become friends lol", "What a fan."
These Kpop idols will amaze you with their hidden talents
(KPOPLINE) – Many of Kpop idols are known for their drawing talent.
A number of Kpop idol have a variety of hidden talents, including drawing skill just like professional artists. Their works are highly valued by not only their fans but also experts.
Here are some of Kpop idols with their excellent paintings:
Key (SHINee)
"Sunshine boy" Key, who always brings joy to everyone, has a hidden talent of creating abstract paintings. It seems a bit difficult for many people to understand what he is trying to convey through his works. However, everyone still have to admit that Key is really a talented artist.
Taeyeon (SNSD)
Taeyeon's fans all know that she is good at painting. Even though she did not go to any art school, but all of her paintings can bring a sense of excitement to everyone.
Yura (Girls' Day)
This beautiful girl is famous for her painting talent. Yura showed off her skill through numerous reality shows and impressed many fans. Previously, she studied at an art school, with a dream of becoming a painter.
Mino (WINNER)       
Mino, WINNER's member, also has painting talent. He often amazes fans with his funny caricatures.
Suzy
"Nation's first love" Suzy always gets compliment for her beauty, acting and singing skills. However, she also has a hidden talent, which is drawing skill. A typical example for this talent was a painting that she drew her best friend, IU.
Seulgi (Red Velvet)
Red Velvet's "Little Bear" not only has a great voice, but she also has the ability to be a professional painter. In a Weekly Idol episode, Seulgi portrayed a senior in her company, and the lucky one was Super Junior's Heechul.
Jungkook (BTS)
BTS's maknae is truly a perfect person. He can sing, dance, rap and is good at playing sports. In addition, he showed his paintings on TV programs. Jungkook comes from a family where most of the members are good at painting, especially his brother, the one who inspired him a lot. Is there anything that he cannot do?
Source:kpopline