Na Yoen and Jeong Yeon came across a fan who bring their old photo to Twice's concert, and that's how they react!
In ThaiLand concert, Na Yoen and Jeong Yeon make fans laugh out loud for the innocent moment when they directly showed off their photo on the stage. A fan printed Twice members' old photo on the banner with the outdated hairstyle and casual appearance before they debuted. Na Yeon and Jeong Yeon saw that and brought the banner on stage to show other fans.
Pann users commented:
 "It looks funny, they seems quite comfortable, they often show off the  funny photos in the past or without makeup on the livestream ", "That image is their graduation photo. Nayeon said she likes this fan's banner", "They usually teasing each other", "Now, all of them are pretty, Why are they have to afraid of the old picture?", "Twice is so beautiful, even they are secretly took picture in the concert, their beauty does not change".
Fan's banner make two idols excited.
Tomboy Jeong  Yone used to has feminine image in the past
Na Yeon also has the innocent image in the school
They are a close friends, as JYP's trainees in a long time.
Surprisingly with the result from JYP's boygroup 's MV pre-debut
It's not wrong when talking Stray Kid completely become the most prominent rookie in 2018.
JYP Entertainment's next boy band, Stray Kids is preparing for their debut this year. The offical debut time has not been determined yet, but the 9 guys are already familiar with the fans through their own reality shows, "Hellevator" and the latest MV "Grrr Law of the Total Madness" released in their pre-debut album "Mixtape".
IYP's rookie boygroup – Stray Kids impressed in the newest  MV
On January 8th, Stray Kids officially released their album – "Mixtape"  and "Grrr Law of the Total Madness" 's MV. The album consists of 7 songs that they performed on the reality show and the pre-debut songs were written by all of members in group
Since the teaser period, Stray Kids has made fans curious . So when they broadcast, their MV has received the fans' s  love.
The number of MV's view have been sharply risen
The beginning of the MV is the extremely attractive dances with the lively hip hop tone andcatchy rhythm. In terms of visuals, the vocal, rap and dance skills in the boys 's pre-debut  are good. It makes viewers unable to take their eyes off during the MV.
In less than an hour, "Grrr Law of the Total Madness" had nearly 200,000 views, an impressive number for a rookie's pre-debut. At the same time, the audience left thousands of comments under the MV posted on JYP's Youtube channel. Most commented are praise of MV's rebellious concept and Stray Kids's talent.
Let's look at some comments to find out the influence level from Stray Kid 's new MV
"Replayed many times, don't feel disappointed at all!"
"What should I do to stop loving Stray Kid?"
"This is the time to go to school in my country. But I'm watching this MV. I do not know how many times I replay it"
"Felix's voice is making me infatuated!!!"
 " I hope the best luck will come with them because this group deserves to that. I always support them "
"Yes, I am also immerse in Felix 's voice."
"They have produced themselves ? They are really an impressive rookie. They are very good. (Greetings from AMRY) I feel they will become a great hit. "
What do you think about this Stray Kid's album?
Starting 2018 with 6 Korean movies released in January
Let's take a look at 6 films that will be released in January this year.
There are many comebacks such as Yoon Yeo Jung and Lee Byung Hun, the talented "jonny raw" Park Jung Min or The Villainess Kim Ok Bin. Here are six noteworthy movies that will be released in 2018 promising more breakthroughs in Korean cinema.
1. Brothers in Heaven
Release date: January 17th
Genres: Criminal
Actors: Sung Hoon, Jo Han Sun
The twins have been separated since they were very young. They grow up and become rivals: Tae Joo is a police and Tae Sung is the leaderof a criminal organization. They has been separated for 20 years, now they meet again …
Trailer "Brothers in Heaven"
2. That's Only My World
Release date: January 17th
Genres: drama
Actors: Lee Byung Hun, Yoon Yeo Jung, Park Jung Min
This film starring three stars who have gained the Blue Dragon Film Awards: Lee Byung Hun, Yoon Yeo Jung and Park Jung Min. That's Only My World is about a boxing athlete (Lee Byung Hun) and his brother (Park Jung Min), a talented piano artist who suffers from intellectual disability. They gathered through their mother, In Sook (Yoon Yeo Jung) – a woman with stories of the past.
Trailer "That's Only My World"
3. A Blue Mouthed Face
Release date: January 18th
Genres: drama
Actors: Jang Liu
A woman was left alone after she asked her mother to leave and her brother commit suicide in front of her. She both likes and hates her colleagues. She is abandoned and she dreams of a new life.
Trailer "A Blue Mouthed Face"
4. The Discloser
Release date: January 24th
Genres: action, detective, thriller
Actors: Kim Ok Bin, Kim Sang Kyung
The commander Park Dae Ik (Kim Sang Kyung)  is assigned to work as the chief of the aircraft component purchasing section of Department of Defense. One day, the fighter pilot Kang Young Woo comes to Park Dae Ik and askes him about the company supplying components for the fight jets. Park Dae Ik checks documents and finds that U.S Air Star company is the sole provider. Meanwhile, Kang Young Woo's fighter jet crashes. The military covers the truth and blames for Kang Young-Woo.
Park Dae Ik investigates secretly and knows about a deal between Department of Defense and The Pentagon. He cooperates with reporter Kim Jung Sook (Kim Ok Bin) to reveal the truth.
Trailer "The Discloser"
5. A Living Being
Release date: January 25th
Genres: drama
Actors: Lee Il Hwa
On a remote island, an ugly old man suffers from dementia. However, his nurse always takes care of him devotedly. They look on each other like a gentle old man and a paranoid lady. One day, the man begins to confess his past.
Trailer "A Living Being"
6. Psychokinesis
Genres: supernatural, comedy
Actors: Ryu Seung Ryong, Shim Eun Kyung, Park Jung Min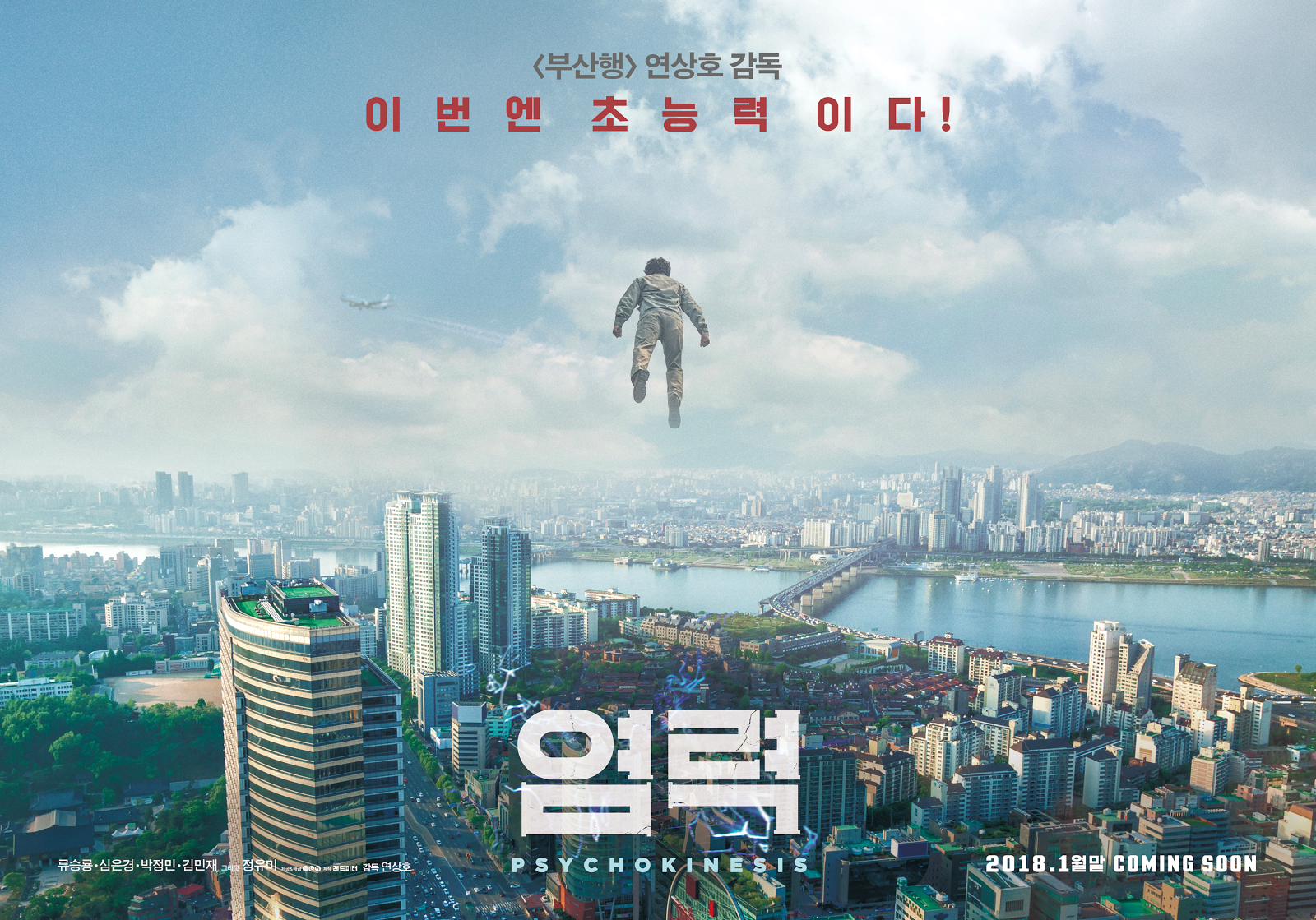 An another movies from the director of Train to Busan – Yeon Sang Ho, with a budget of $10 million. This movie is about Suk Hyun (Ryu Seung Ryong), a man who possesses supernatural powers and uses that power to help his wife, daughter and neighbors. His daughter, Roo Mi (Shim Eun Kyung), is a vivacious girl and has a strong survival instinct. Roo Mi gets involved in an unexpected situation, Suk Hyun must find a way to save his daughter.
Trailer #1 "Psychokinesis"
Source:kpopline