(KPOPLINE) – Unlike other trainees, some of entertainment agents kept all of information about these idols, who are considered as the groups' aces to surprise Kpop fans.
Entertainment companies tend to reveal information about music, styles, and the lists of members for their idol groups before debut. However, fans probably noticed that, about one to two members' identities will be kept until debut, because these people may become the companies' "secret weapons" to win fans' hearts.
Joy (Red Velvet)
When Red Velvet was prepared to debut, all of the group's members were SM Rookie's members, except Joy – a mysterious trainee. She was never introduced properly before debut.
After debuted, Joy received a lot of negative comments because of her chubby image from high school. However, a video that she sang at a school's event make people look different about her.
At the moment, after trying to lose weight, she gradually attracts thousands of Kpop fans for her beauty.
Sungjae (BTOB)
In 2015, BTOB's maknae became famous thanks to his excellent appearances in series "School 2015" and show "We got married" with Joy (Red Velvet).
Not many of you know that Sungjae once just took the auditions by JYP but was eliminated in the final round, and then he became Cube's trainee.
Sungjae was the company's "secret weapon". Fans did not know anything about him before BTOB debuted. He owns a lovely smile with various talents like acting, singing.
Changsub (BTOB)
Cube has high expectations of Changsub – as a main vocal of BTOB. Before debut, fans also did not have anything information related to this guy.
He has a good sense of humor and always be the funniest member in the group.
Among beautiful male and female idols, Changsub is famous for his unique character.
Kei (Lovelyz)
Kei has not disappoint the company while becoming the most famous member in Lovelyz.
Kei, before debut with Lovelyz.  
She is famous with her own aegyos. She can melt everyone's hearts just by her cuteness.
V (BTS)
V with his handsome appearance and impressive voice drew thousands of fans. From the beginning, V was also the company's "secret weapon" to surprise fans.
During his trainee time, V is known for his perfect appearance.
Currently, V is considered as the most handsome man in the world, having a strong fan base. He can be sexy on stage but extremely cute in real life.
iKON announce their comeback date with 2nd full album 'Return'!
Shortly after Papa YG's little trolling incident, YG Entertainment has announced iKON's official comeback date!
iKON's 2nd full album 'Return' is set for this coming January 25. In their official poster, iKON take on their signature, hip-hop style with chic expressions, but with an air of leisure instead of their previous comeback, which was tough and charismatic. Look forward to more teasers on iKON's comeback!
Starting 2018 with 6 Korean movies released in January
Let's take a look at 6 films that will be released in January this year.
There are many comebacks such as Yoon Yeo Jung and Lee Byung Hun, the talented "jonny raw" Park Jung Min or The Villainess Kim Ok Bin. Here are six noteworthy movies that will be released in 2018 promising more breakthroughs in Korean cinema.
1. Brothers in Heaven
Release date: January 17th
Genres: Criminal
Actors: Sung Hoon, Jo Han Sun
The twins have been separated since they were very young. They grow up and become rivals: Tae Joo is a police and Tae Sung is the leaderof a criminal organization. They has been separated for 20 years, now they meet again …
Trailer "Brothers in Heaven"
2. That's Only My World
Release date: January 17th
Genres: drama
Actors: Lee Byung Hun, Yoon Yeo Jung, Park Jung Min
This film starring three stars who have gained the Blue Dragon Film Awards: Lee Byung Hun, Yoon Yeo Jung and Park Jung Min. That's Only My World is about a boxing athlete (Lee Byung Hun) and his brother (Park Jung Min), a talented piano artist who suffers from intellectual disability. They gathered through their mother, In Sook (Yoon Yeo Jung) – a woman with stories of the past.
Trailer "That's Only My World"
3. A Blue Mouthed Face
Release date: January 18th
Genres: drama
Actors: Jang Liu
A woman was left alone after she asked her mother to leave and her brother commit suicide in front of her. She both likes and hates her colleagues. She is abandoned and she dreams of a new life.
Trailer "A Blue Mouthed Face"
4. The Discloser
Release date: January 24th
Genres: action, detective, thriller
Actors: Kim Ok Bin, Kim Sang Kyung
The commander Park Dae Ik (Kim Sang Kyung)  is assigned to work as the chief of the aircraft component purchasing section of Department of Defense. One day, the fighter pilot Kang Young Woo comes to Park Dae Ik and askes him about the company supplying components for the fight jets. Park Dae Ik checks documents and finds that U.S Air Star company is the sole provider. Meanwhile, Kang Young Woo's fighter jet crashes. The military covers the truth and blames for Kang Young-Woo.
Park Dae Ik investigates secretly and knows about a deal between Department of Defense and The Pentagon. He cooperates with reporter Kim Jung Sook (Kim Ok Bin) to reveal the truth.
Trailer "The Discloser"
5. A Living Being
Release date: January 25th
Genres: drama
Actors: Lee Il Hwa
On a remote island, an ugly old man suffers from dementia. However, his nurse always takes care of him devotedly. They look on each other like a gentle old man and a paranoid lady. One day, the man begins to confess his past.
Trailer "A Living Being"
6. Psychokinesis
Genres: supernatural, comedy
Actors: Ryu Seung Ryong, Shim Eun Kyung, Park Jung Min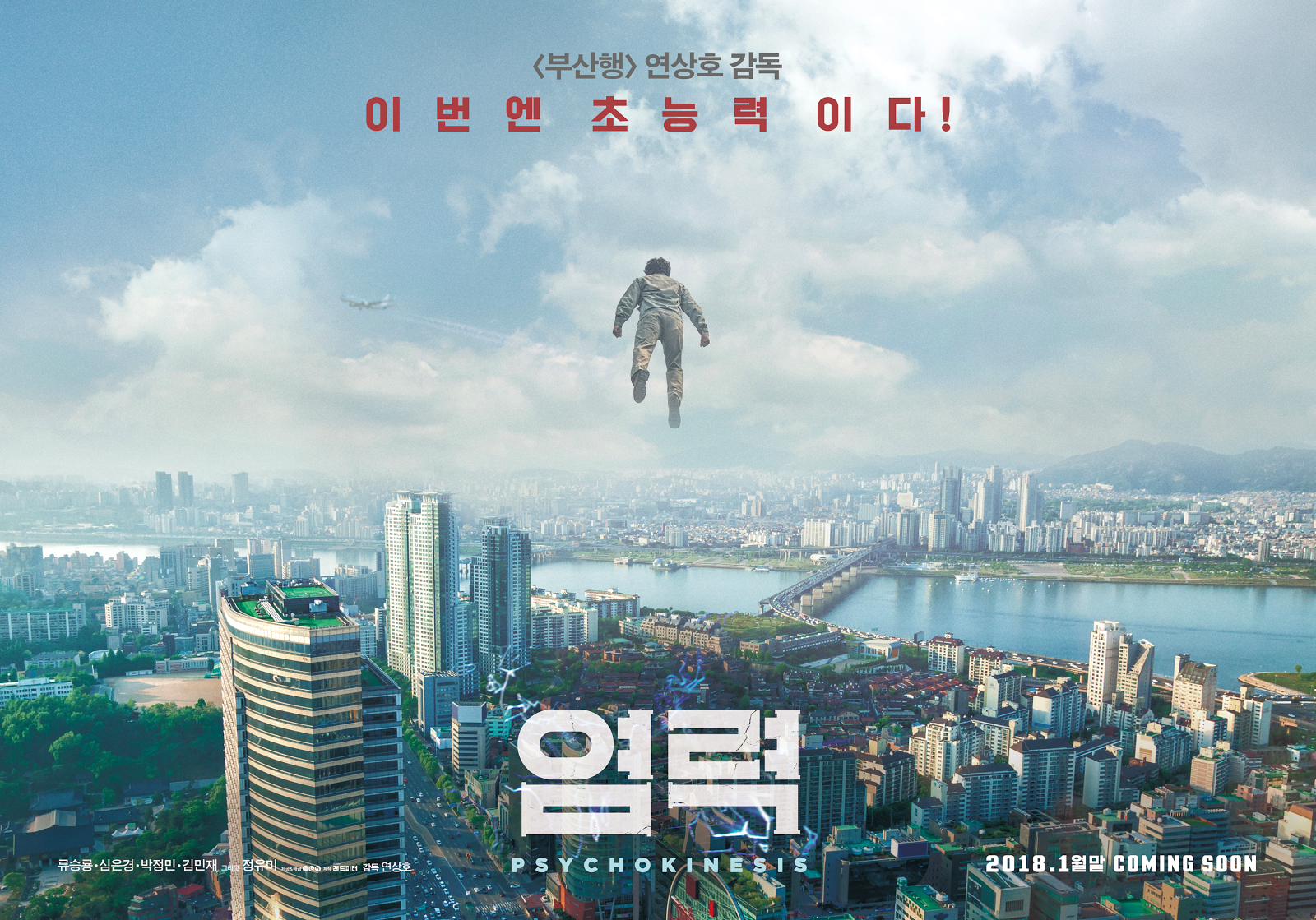 An another movies from the director of Train to Busan – Yeon Sang Ho, with a budget of $10 million. This movie is about Suk Hyun (Ryu Seung Ryong), a man who possesses supernatural powers and uses that power to help his wife, daughter and neighbors. His daughter, Roo Mi (Shim Eun Kyung), is a vivacious girl and has a strong survival instinct. Roo Mi gets involved in an unexpected situation, Suk Hyun must find a way to save his daughter.
Trailer #1 "Psychokinesis"
Source:kpopline