(KPOPLINE) – Many Kpop idols used to be Korean famous "Ulzzang" on social networks before debut
Ulzzang is a popular South Korean term literally meaning "best face" or "good-looking". An ulzzang will gain popularity on the internet. These Kpop idols will change people's minds about ulzzangs, who are good-looking but don't have any talents.
1. Jinyoung (B1A4)
Before becoming B1A4's talented leader, Jinyoung used to be a "Ulzzang" with his appearance on a TV show, named "Looking handsome boys" with Song Joongki, Jonghyun (SHINee), and Mun Junyoung (ZE:A), making many fan girls go nuts.
He now becomes a talented singer, writer and actor.
His angelic voice
His writing song "At the same place" for Produce 101 season 1 
Jin Young can be good at acting too.
2. Kang Minkyung (Davichi)
Part of duo Davichi – Kang Minjkyung was a famous Ulzzang for her pretty look.She has a beautiful and powerful voice, touching people's hearts.
Her beautiful voice in "This love"
Davichi and their OST "Forgetting you" for "Moon Lovers"
3. Mina (AOA)
She was famous in Busan for her natural beauty before debut. She used to become model for many shops. Among many Ulzzang, she knew how to be different and the proof is that she debuted as an idol with AOA.
4. Sehun (EXO)
Just like Mina (AOA), Sehun was famous when he was at high school. He was known as a hot boy with perfect height and appearance.
He was selected to be SM's trainee when he was studying at high school. He proved his talents by debuting with EXO.
5. Jaehyo (Block B)
During his high school period, Jaehyo attracted a lot of fan girls due to his good-looking face. He was on the top of "Gen-3 Ulzzang" and got first prize in Mnet's "Pretty Boy" show.
And now as a member of Block B, he is still one of top visuals among Kpop idols.
6. Lee Joo Yeon
After School's former member – Lee Joo Yeon was once a famous Ulzzang. With her beauty, she was invited to play in CFs.
She proved her talents when she was a member of After School through some of hit, namely "Dilly Dally", or "Lady Luck". At the moment, she focuses on acting and becomes one of favorite face for many magazines.
Source:kpopline
Look back on the 'legendary' squad of "Dream High": Where are they now?
7 years after "Dream High", Suzy, IU, Kim So Hyun became top Korean celebrities.
​In 2011, "Dream High", with the participation of new generation idols at that time, Suzy, Kim Soo Hyun, Eun Jung, IU, Woo Young and Taec Yeon. No one can imagine that this series can change idols' lives.
After 7 years, they all now became as one of top Korean stars with many achievements.
Bae Suzy
in 2102, Suzy became "nation's first love" thanks to the movie "Architecture 101". Until 2013, she changed her old image to become a female archer in Gu Family Book, along with Lee Seung Gi. The drama reached high ratings, bringing a lot of awards for Suzy.
In 2016, 2017, Suzy came back with two dramas "Uncontrollably Fond and While Were You Sleeping. At the end of 2017, her group MissA disbanded and she also broke up with Lee Min Ho after 2 years together. She released her second mini album "Faces of Love" and received a lot of support from fans.
Kim Soo Hyun
Kim Soo Hyun succeed with Korean cinema through his roles in "The Thieves" and "Secretly Greatly".
In 2014, his name reached out of Korea thanks to his famous role as Do Min Joon in "You came from the star". However, his recent dramas could not meet the viewers' expectations, such as "Producers (2015) and Real (2017). He is now enlisting the army. Fans hope that after discharging from military service, he will come back with interesting projects.
IU
In 2013, IU unknowingly showed her photo with Eun Hyuk (Super Junior) on social network. In the same year, IU had another scandal about her music product. Her posters and lyrics in the song Zeze have content related to "pedophilia."
After coming back with her main role in "Moon Lovers", IU is getting back the audiences' loves and her album "Palette" became hit.
Eun Jung (T-ara)
At that time, Eunjung and Tara still gained much attention with various hits, topped on music charts. Because of the group's bullying scandal, her career went down too.
She continued to focus on acting career but could not catch people's hearts.
Woo Young and Taec Yeon (2PM)
Taecyeon's most famous drama was "Let's fight ghost" (2016) with actress Kim So Hyun. He got a lot of compliments with his good acting skill.
About Woo Young, he recently finished his solo concert tours in Japan and released his new single "Going Going" in January, 2018.
Jeon So Min reveals Lee Kwang Soo came to her house drunk one day
Jeon So Min shared about fellow 'Running Man' Lee Kwang Soo on 'Life Bar'.
Jeon So Min shared about fellow 'Running Man' Lee Kwang Soo on 'Life Bar'.
On the February 1 airing, Jeon So Min revealed Lee Kwang Soo came to her house drunk one day. The actress lives with her parents. Jeon So Min explained, "Kwang Soo oppa said he felt something weird so he opened his eyes and saw my dad sitting next to him."
She continued, "My dad asked oppa, 'I'm sorry but one photo please,' so the two took a picture together. I still have it."
Source: All Kpop
Do you remember the time Song Hye Kyo transformed into a strong woman in extremely short hair?
(KPOPLINE) – She is the great evidence for the constant beauty no matter which styles she follows.
Song Hye Kyo used to wear a short hair wig to look more fabulous and chic during a photoshoot for W Korea magazine.
These photo made fans admire for her beauty. With short hair and careful make up, especially the red lips, Song Hye Kyo looked like a different person.
With this hair style, Song Hye Kyo was so sexy and fashionble. This photoshoot was taken place in Miami few years ago
Many people comment that she still looks the same
Although this tomboy hairstyle is extremely picky, it still goes well with Song Hye Kyo's face.
She successfully tranformed into an urban girl with this hair style
Every time she shows up, she amazes fans with her stunning and bright looks. Many girls consider Song Hye Kyo as their ideal fashion types.
 Song Hye Kyo promoted her curly hair from the drama "Full House". 
In "Worlds Within", Song Hye Kyo gained attention with her bob hair style
In "Descendent of the Sun", she impressed the viewers with her beautiful shoulder-length hairstyle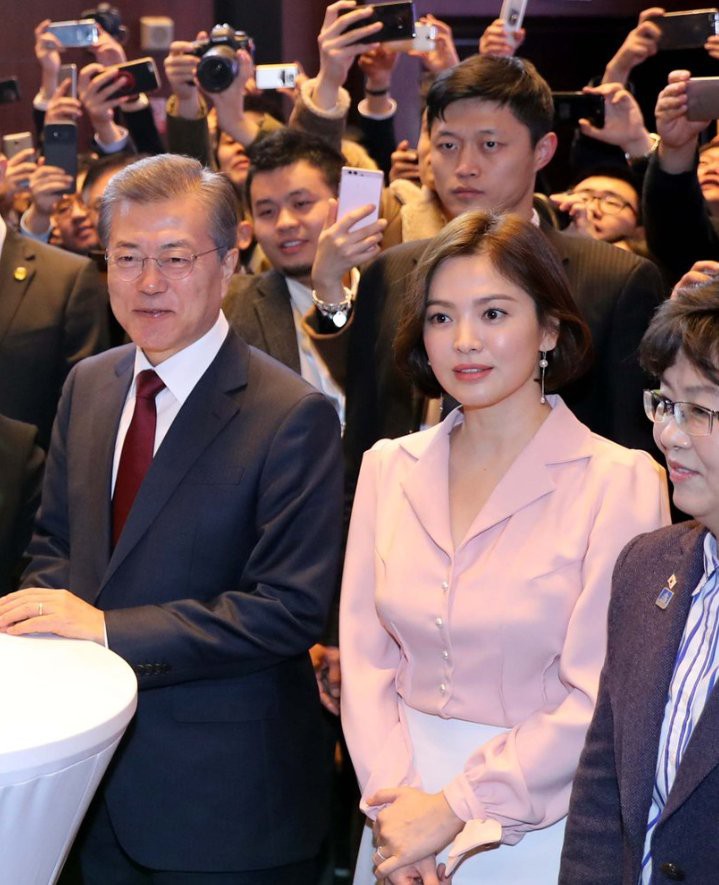 Her first event after marriage, her bob hair style with no bang made her look so atractive
Source:kpopline