(KPOPLINE) – Jimin, Tzuyu, Jiyeon, … have once worn special costumes which makes fans "blushed" because of these misleading words.
Costume is an important factor that helps Kpop idols shine and impress fans. Therefore, when idols appear in public, their stylist has to choose costumes carefully. However, many times idols' costumes make fans blush with "sensitive" phrases.
And below are the unique outfits of Kpop idols with 'bold' phrases with special meaning and imagination that have accidentally been recorded by fans' camera.
1. Hyejeong (AOA)
Hyejeong (AOA) 
makes fans blush when appearing with a "
Pussy
" shirt and was accidentally recorded by camera. With this shirt, she seems to become a pioneer for feminist style.
2. Lay (EXO)
Lay (EXO) also gains fans' attention when wearing a coat with the phrase: "Never wanted to piss on someone's face more than I want to piss on yours".
3. Sunggyu (Infinite)
Sunggyu (Infinite) also poses a lovely shape with a white T-shirt featuring words "F ** k Off" – a popular swear in foreign countries.
4. Jiyeon (T-ara)
Jiyeon (T-ara) appears in public with a simple black T-shirt and bold words: "GO TO HELL."
5. Sunny (SNSD)
In MV "I Got A Boy", Sunny appears with extremely cool image. And her stylist seems to want her more personalized with a cap and phrase, "Welcome Motherf * cker" with a heavy meaning. This is also the most memorable incident of Sunny.
6. Tzuyu (Twice)
Since debuted, Tzuyu has received a lot of complaints, one of which is problems with performance costumes. In particular, she wore a shirt with phrase "Hoes takes off your clothes."
After this incident, JYP had to apologize for this sensual costume incident.
7. N (VIXX)
During a fanmeeting, N (VIXX) also makes fans blush with white simple T-shirt and black sentence "P * rn Is The New Black."
8. Jimin (BTS)
When taking a selfie photo, small words on Jimin's black T-shirt accidentally is noticed by netizen. Phrase "Blood and sperm all over the place."
9. Kikwang (Highlight)
Airport fashion style is very unique, but Kikwang once showed up with a white phrase on his black shirt: "I wanna f * ck RIHANNA" makes netizens shocked.
10. Onew (SHINee)
During a performance, Onew wore a T-shirt with phrase "It's not going to lick itself," and besides that there is a lollipop. This phrase makes many people have some… 'dark thoughts'.
Source: Summary
Top 7 actors who are veteran of kissing scenes
Here's 7 actors who have made many romantic kiss scenes so romantic so far.
Here's 7 actors who have made many romantic kiss scenes so romantic so far.
Is there any special tip to make a good kiss scene? Sometimes, some kiss scenes make people fall in love with the dramas or film much easier. What makes kiss scene so romantic and hot? Firstly, there should be romantic stories behind. People, especially girls fall only for well-based love story, not the groundless one. But the story is not what actors can change. Actors here can make it more look like a likely story. A sweet glance, warm whisper, tender touching on partner's cheeks can be in charge of clever actors.
Good kiss scene is enough to make a good work. You check out who the veteran of kiss scene is, below!
1. Yoo YeonSeok
"Shouldn't I go crazy into you, sunbae?"
2. Eric
"Another Miss Oh (2016)"
"Que Sera Sera (2007)"
3. Seo InGuk
"Rascal Sons (2012)"
"Shopaholic Louis (2016)"
4. Jo JungSuk
"The King 2 Hearts (2012)"
"Oh My Ghostess (2015)"
5. Ji ChangWook
"The K2 (2016)"
GIF
"Suspicious Partner (2017)"
6. Gong Yoo
"Coffee Prince (2007)"
"The Goblin (2016)"
7. Park SeoJoon
"A Witch's Love (2014)"
"Fight for My Way (2017)"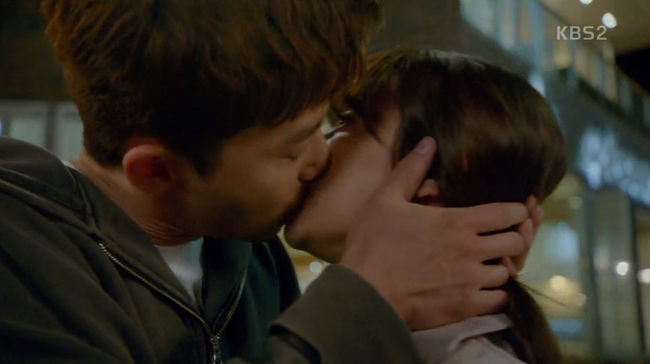 Source: Kpopmap
Korean netizens 'raved' with the stunning beauty of 4 beautiful stars in the 2000s
Beauty of these 4 Korean beauties in their most famous dramas/ movies is considered to be much more superior to female stars at the same time.
Recently, an article on Instiz has attracted nearly 90,000 readers. This post is about female actress of 8X generation, who are considered to be superior in comparison to their colleagues.
Four names in this list are Son Ye Jin –  Summer Scent (2003), Jeon Ji Hyun – My Sassy Girl (2001), Kim Ah Joong – Pounds Beauty (2006) and Chae Jung Ahn – Coffee Prince (2007). These are the most prominent female stars of Korean cinema in the 2000s. These films are named as the most popular projects in their acting career.
Besides compliments, there are also some who say that this list is lacking of some faces such as Kim Tae Hee, Song Hye Kyo, Han Hyo Joo, …
1. Son Ye Jin (Summer Scent)
Son Ye Jin is one of successful actresses of Korean entertainment industry. Only three years after debut, she became famous all over Asia thanks to various movies: The Classic, A Moment to Remember and Summer Scent.
Although 15 years have passed, Son Ye Jin's innocent beauty in these movies, especially Summer Scent, still made many audiences 'goosy'. This beauty can recall feelings of first love – that's why Son Ye Jin became "national first love" of Korean citizens in the early 2000s.
2. Jeon Ji Hyun (My Sassy Girl)
"My Sassy Girl" is a phenomenon which swept many tickets at the box office in 2001. It helps Jeon Ji Hyun become a star. She is not only beautiful but also her beauty in this movie is also highly praised compared to the beauty standard at that time. This movie also gives Jeon Ji Hyun the title "national first love" before it is "given" to Son Ye Jin two years later.
3. Kim Ah Joong (Pounds Beauty)
Until now, Pounds Beauty is still the most famous movie of Kim Ah Joong for international audiences. This is the third best-selling Korean box office in 2006 with more than 6.6 million viewers. It is also praised by critics and helps Kim Ah Joong gain Grand Bell in 2007. More than 11 years have passed, the beauty of Live Up to Your Name has made a lot of changes in appearance thanks to cosmetic surgery.
4. Chae Jung Ahn (Coffee Prince)
Although Chae Jung Ahn is not a lead actress of Coffee Prince, she is also admired a lot. It is hard for everyone to believe that more than a decade ago, when many other fashion and beauty styles are so different from now, there is a beautiful actress makes her juniors have to admire and envy. Nowadays, she mainly plays as supporting roles such as Yongpal, Man to Man.
(Source: Trithuctre)